Stay Connected
Department of Geosciences
Florida Atlantic University
777 Glades Road, Boca Raton, FL 33431
Phone: 561-297-3250
Campus Map

About the Program and Industry
The Department of Geosciences at Florida Atlantic University is housed on the Boca Raton campus and offers undergraduate and graduate degrees in various subfields of the geosciences. The three main areas of focus in the department are earth systems science, human-environmental systems and geo-information science.
We are proud of the research specialties that we have developed in hydrogeology, paleontology and paleo-environments, human-environmental modeling, and urban and regional development. The Department places a strong emphasis on fieldwork, GIS, remote sensing and other analytical techniques in geospatial modeling, and encourages interdisciplinary research.
Dean Monette was a true FAU Owl. He graduated with three degrees from FAU, a B.S. in Biological Sciences (2004), an Environmental MBA (2006), and a Ph.D. in Geosciences (2014).  He was passionate about the academic environment at FAU, making the most of the opportunities FAU provided, and encouraging his graduate student peers and the undergraduate students he taught and mentored to follow his lead and achieve to their fullest potentials. Read more.
---
Pursue a Degree in Geosciences
Students that study Geosciences have the opportunity to experience all that nature has to offer. And at FAU, the world becomes your classroom - with a strong field-based research component that includes study areas throughout South Florida and across the globe. Learn more.
Highlights
NEW: Online Programs
MS in Geosciences, BA in Geosciences, BS in Geosciences and GIS Certificate  Learn More
Geosciences now offers  online M.S. in Geosciences, B.S. in Geosciences with a Geography focus and B.A. in Geosciences with a Geography focus degrees that will give students an understanding of not only where phenomena are located upon the Earth's surface, but how they came to be there. Geographic Information Sciences (GIS) is emphasized to analyze these spatial relationships.  
Also available to all students are fully online GIS Certificates. 
FAU Geoscience Ph.D. Students Win at Annual Florida Society of Geographers Conference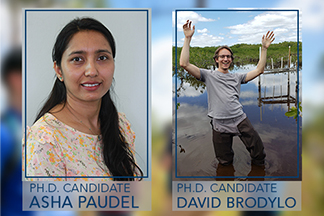 Two FAU Charles E. Schmidt College of Science students were winners of the 58th annual Florida Society of Geographers Awards. Department of Geosciences Ph.D. candidates Asha Paudel won the "Outstanding Oral Presenter, Ph.D." award, and David Brodylo received the "Outstanding Poster Presenter, Ph.D." award. Read more.
Field Camp in Southern Appalachians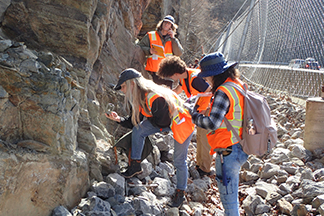 Geoscience undergraduate students visited the southern Appalachians as part of the GLY4750 Field Method Course during a nine-day trip over Spring Break. The 11 students explored Cove Lake State Park, Davidson River Campground, and Santee State Park. The class studied sites of geological interest to practice field techniques. View photos.
Faculty and Student Research
Erik Johanson Interviewed by Local 10 News About Record Breaking Heat
Erik Johanson, Ph.D., Assistant Professor of Geosciences, was interviewed by WPLG Local 10 about climate change, in particular, the record breaking heat in Florida, and its impacts across the state.  Watch here.
GEOPATHS Inspirational Summer Program
Through a competitive application process, four high-achieving Palm Beach State College students were selected to participate in the inaugural GEOPATHS Inspirational Summer Experience. The program provides students with the opportunity to learn about high impact practices and cutting edge techniques used by geoscientists.  Read more.