Events
Department News
Congratulations to Meagan Weisner on winning the Student Research Presentation Award (awarded by the Water Resources Specialty Group) in AAG. 
Congratulations to PhD student Molly Smith who won the second place of Illustrated Paper Award of RSSG at AAG last week. Her paper is entitled as "Sand Analysis Using a Combined Spectroscopic and Microscopic Technique"

Congratulations to our students who receivedawards at the American Shore & Beach Preservation Association (ASBPA).  Julie Cisneros wins 2017 ASBPA Educational Award.  Corey Aitken wins 2017 ASBPA Nicholas Kraus Coastal Scholar Award. 
Recent Publications
McClellan, M., Comas, X., Benscoter, B., Hinkle, R., Sumner, D. 2017. Estimating belowground carbon stocks in isolated wetlands of the Northern  Everglades Watershed, central Florida  using ground penetrating radar (GPR) and aerial imagery
Doyle, K and Hindle, T. 2017. An Examination of Wildlife Crime on the Treasure Coast: Do Crime Detection Rates Differ on Conservation Lands? 
Liu, W., and Li, X., 2016. Life Cycle Characteristics of Warm-Season Severe Thunderstorms in Central United States from 2010 to 2014.

Briggs, T.M.R., and Elko, N., 2016. Natural and Human-Induced Dynamics on Big Hickory Island, Florida.
Stay Connected
Department of Geosciences
Florida Atlantic University
777 Glades Road, Boca Raton, FL 33431
Phone: 561-297-3250
Campus Map
About the Program and Industry
The Department of Geosciences at Florida Atlantic University is housed on the Boca Raton campus and offers undergraduate and graduate degrees in various subfields of the geosciences. The three main areas of focus in the department are earth systems science, human-environmental systems and geo-information science.
We are proud of the research specialties that we have developed in hydrogeology, paleontology and paleo-environments, human-environmental modeling, and urban and regional development. The Department places a strong emphasis on fieldwork, GIS, remote sensing and other analytical techniques in geospatial modeling, and encourages interdisciplinary research.
Highlights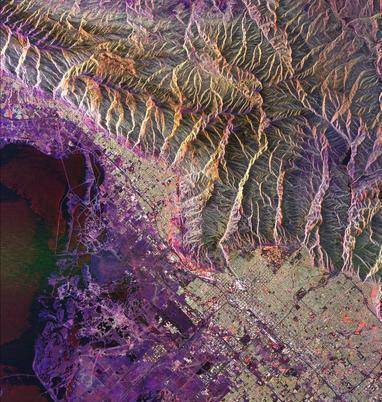 NEW: Online Programs
Bachelor of Arts in Geography and Geographic Information Systems Certificate  Learn More
Geosciences now offers a fully online B.A. in Geography that will give students an understanding of not only where phenomena are located upon the Earth's surface, but how they came to be there. Geographic Information Sciences (GIS) is emphasized to analyze these spatial relationships.  
Also available to all students are fully online GIS Certificates. 
Student Spotlight:
Ph.D. Student Matt McCllan employs a technology called ground-penetrating radar (GPR), which uses high-frequency radar pulses to quickly and noninvasively create below-the-surface images. Matt and his team led by Dr. Xavier Comas used GPR to determine the volume of peat in several depressional wetlands in the Disney Wilderness Preserve in Florida.
Faculty and Student Research
Xavier Comas, Ph.D. with the Environmental Geophysics Lab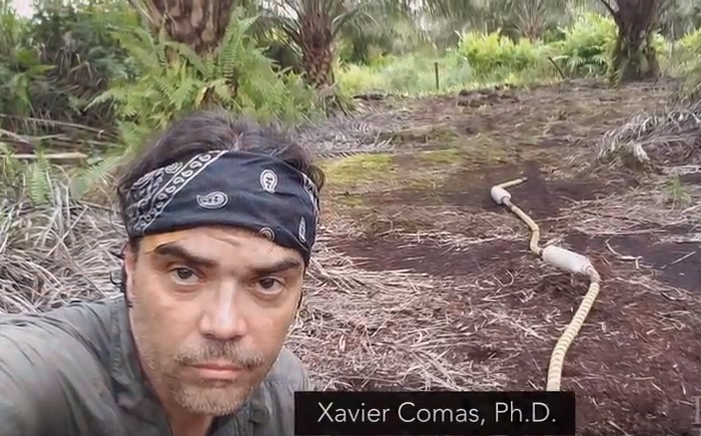 Xavier Comas, Ph.D. with the Environmental Geophysics Lab in the Department of Geosciences at Florida Atlantic University, uses non-invasive near-surface geophysical technologies to create images of what lies beneath the Earth's surface in an effort to map the peatlands and understand how sea level rise would affect them.  Link to watch Dr. Comas' video
Dr. Comas' current reseaerch includes the use of Ground Penetrating Radar (GPR), terrain conductivity, electrical resistivity and induced polarization (IP) for environmental applications with emphasis in wetlands and karst environments 
Simple Tactic Results in Dramatic Water Conservation
Rain or shine has new meaning thanks to an innovative, inexpensive and simple tactic developed by Tara Root, Ph.D. and Felicia D. Survis, PhD. at Florida Atlantic University that will really change how people think about watering their lawns. The tactic? A straightforward road sign.  Results of their study are published in the current issue of the  Journal of Environmental Management  .  
Get Started
For Prospective Students
Centers & Labs
For Research and Resources
Associations
For Professionalism & Advancement